New energy vehicles are an important innovation in the automobile industry. In recent years, our new energy vehicle development momentum is strong,which has developed rapidly in the model supporting, technology research and development and consumer market. Becides, new energy vehicles have made breakthroughs in the field of enterprise, technology and market. The proportion of new energy vehicles in the entire automobile industry is rising.
According to Automobile Industry Association of China, the output of new energy vehicles in China climbed from 1.270 million in 2018 to 7.058 million in 2022, up 99.10% from 2021, with a compound annual growth rate of 53.54% from 2018 to 2022.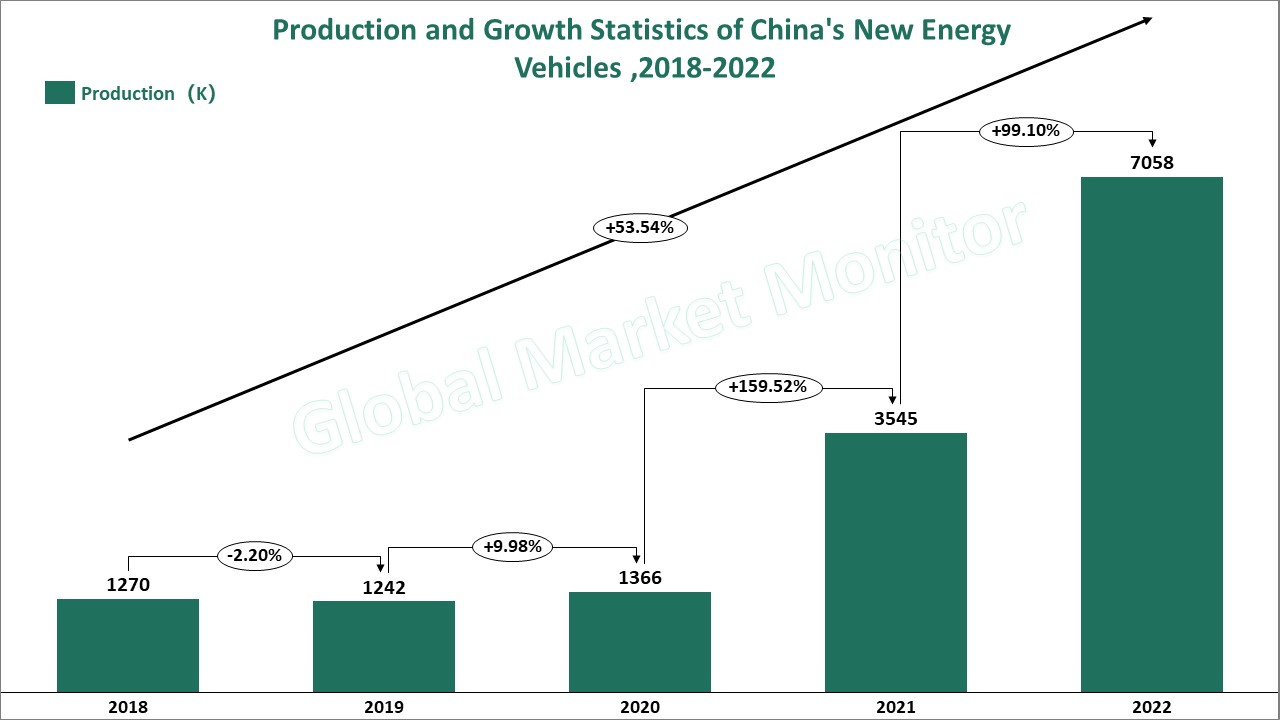 Source: Automobile Industry Association of China,Market Monitor Co., Limited

In terms of sales volume, data show that since 2018, the sales volume of new energy vehicles in China has increased year by year (except for the negative growth in 2019), especially in 2021, when the sales volume soared to 3.521 million, with a year-on-year growth of up to 157.57%. In 2022, the sales market of new energy vehicles continued to maintain a high boom, with the annual sales volume reaching 6.887 million, up 95.60% year on year. In particular, monthly sales in the second half of 2022 continued to climb and surpassed 800,000 units in December, constantly breaking monthly sales records. At the press conference of the Information Office of The State Council held on March 1 this year, Xin Guobin, Vice Minister of Industry and Information Technology, also said that "in 2022, China\'s new energy vehicle industry has delivered a very impressive performance."
Source: Automobile Industry Association of China,Market Monitor Co., Limited

However, according to the statistics released recently by Automobile Industry Association of China, in January this year, China\'s production and sales of new energy vehicles were 425,000 units and 408,000 units, respectively, down 46.6% and 49.9% month-on-month, respectively, down 6.9% and 6.3% year on year, with the market share of 24.7%, reaching the lowest line.
In addition to the seasonal slow season brought by the Spring Festival, the temporary price increase of some models in January after the withdrawal of subsidies and the overdraft of sales at the end of 2022 also aggravated the shock of January sales. In early 2023, after the withdrawal of state subsidies, more than 20 car companies took the lead in raising prices, but at the same time, Tesla opened a new round of price cuts worldwide, triggering a price war. "Price reduction, cost pressure, difficult to survive; Without price cuts, sales will suffer." Chen Shihua, deputy secretary-general of the association, said, "Faced with fierce market competition, those new energy vehicle companies that have not yet achieved profitability face a difficult survival problem."
Chen Bin, deputy director of the expert committee of the China Machinery Industry Federation, also said that the price war triggered by Tesla has taught the new-energy vehicle industry a lesson, and how to balance the pressure of increasing costs and sales growth has become the main task facing auto companies. In addition, the withdrawal of subsidies is a very big test for the new energy vehicle market, "Whether new energy vehicles can continue to maintain rapid growth in 2023 is the key to determine the marketization development of new energy vehicles in our country."